As businesses begin to return to work, changes must be made to adjust to the "new normal" that will soon become reality in the future. Thankfully, companies like Hikvision are offering solutions and technologies to help businesses adapt and overcome new challenges post Covid-19.
Hikvision have developed thermographic Cameras designed for temperature screening. These cameras make use of a algorithm model that converts IR radiation into a corresponding grayscale value that be interpreted and identified as various temperatures. By analysing the skin-surface temperature of a person, users can determine whether a person has an abnormal temperature that may indicate that they are infected with the Coronavirus. This person can then be segregated or sent home to prevent further infections.
The advantage of using cameras for temperature screening include safety and their efficiency. A fixed Hikvision camera is ideal for covering entrances to buildings, along hallways and lobbies to measure a large volume of people without the need of physical contact and with a accuracy of up to ±0.3°C, you can be confident that any members of staff or the public who are a potential risk can be identified. However, fixed cameras are not the solution available as seen below. Our offerings include handheld, bullet and turret cameras.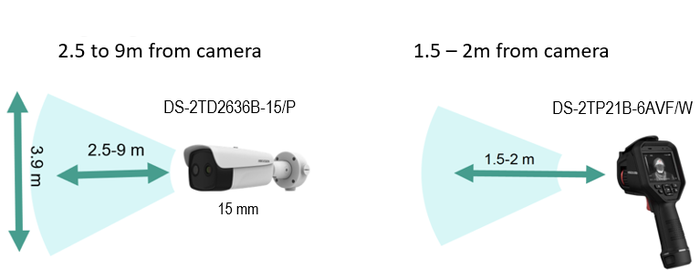 Hikvision cameras support real time onboard light and audio alarm warnings and can identify individuals that are wearing masks and which are not and identity information can be stored upon the detection of a individual that is in breach of a mask policy or a abnormal temperature.
An effective answer for rapid and preliminary temperature screening in office buildings, factories, stations, airports and other public places. We can provide you a one-stop solution, including thermographic cameras, NVRs and the necessary networking equipment to not only give you peace of mind but also your fellow colleagues and members of the public as we adjust to life post Covid-19.